Hello Potential Investors Below is a email I sent you last week to explain why I feel my service is worth you time. Before you read that, let me show you a few alerts from today and a few member comments who were in your position not that long ago....
QUAN
- Alerted by Chat Room Assistant "Tango" at $.195 cents. Currently QUAN is at $.40 cents or up
142% on the day.
Want my next big penny stock report?
Jeff, this is the most money I've made, and thanks to you with the school of information on charts/volume (started portfolio with $2k since Dec, and now at $9,000) paid the newsletter many times 5/28 ~ Mark
Tango Thanks for QUAN Alert, out QUAN for 51% ride wow 5/28
~ JimbokDeafTrader
Jeff, I just purchased a HUD home for $30K below my original offer! Thanks for helping me scrape up the down payment SA!!!!! 5/28 ~ SpecialEd
Jeff, $500 profit on QUAN…. thanks SA for the guidance and Tango for the dance 5/28 ~ Tillman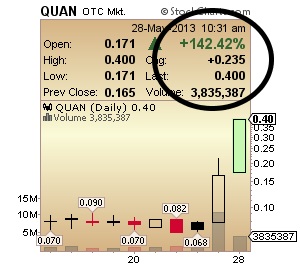 What I would like to do today, is tell you why my service is different from the others
and why my service will actually help you become more profitable. First off, as you know
I have been in the market for 16 highly successful years
. I have a Masters in education and a passion for teaching people just like you. This is the foundation, but lets talk about
6 KEYS that I think are important for you to know about my service (not including the fact that when you actually email me, you get ME and I talk to you live)
#1
. My service is
NOT compensated
for any alerts (IE we are not a pump and dump, we trade off technical and fundamental alerts in REAL TIME)
#2.
Not only do
we tell you when to BUY but we also give you email, text and live chat room alerts on when to SELL!
This is key, since not everyone can sit and watch the trades all day long
#3
. I have dedicated the last 2 years in putting together a
FULL library of learning material for you
. These online video educational resources include a full 5 week "Mentor Program" that go
step by step in how to get started in the stock market
right up to how to place buy and sells and what are my top secrets to profiting in the stock market
#4.
My live stock chat room has a
full dedicated team of assistants
ready to help answer all your questions. Not only am I in the chat room every day, but my team of dedicated assistants are as well. We issue trade alerts all day long. We answer essential questions from new and experienced traders.
We give 2 to 3 "Seminars" per week
to continue your education and understanding. We are here to help you learn how to make money.
#5
. My alerts range from $.001 to $5.00 and we "alert" short term trades as well as long term trades
so everyone from a full time trader to a full time worker can use my system
. Just look at the FNMA chart below. I issued our first "buy" on FNMA at $.30 cents as we recognized that FNMA would have massive earnings and saw the potential of "what could be" based on the numbers we had calculated.
Now FNMA is at $3.00 or 900% higher than our initial alert (Ideal swing long trade)
#6. Traders can use my system with as little as $500 and as much as $500,000 in their portfolio.
What I mean by this is, because we are in the "penny stock" arena, we have a stock that fits whatever size portfolio you have.
Traders, my system is 100% customizable to meet what you need and what type of trader you are, big or small.
If you would like to learn more and start making money in the stock market then
click on our join now link here.
It's really that simple, I will do the rest of the work for you. Jeff